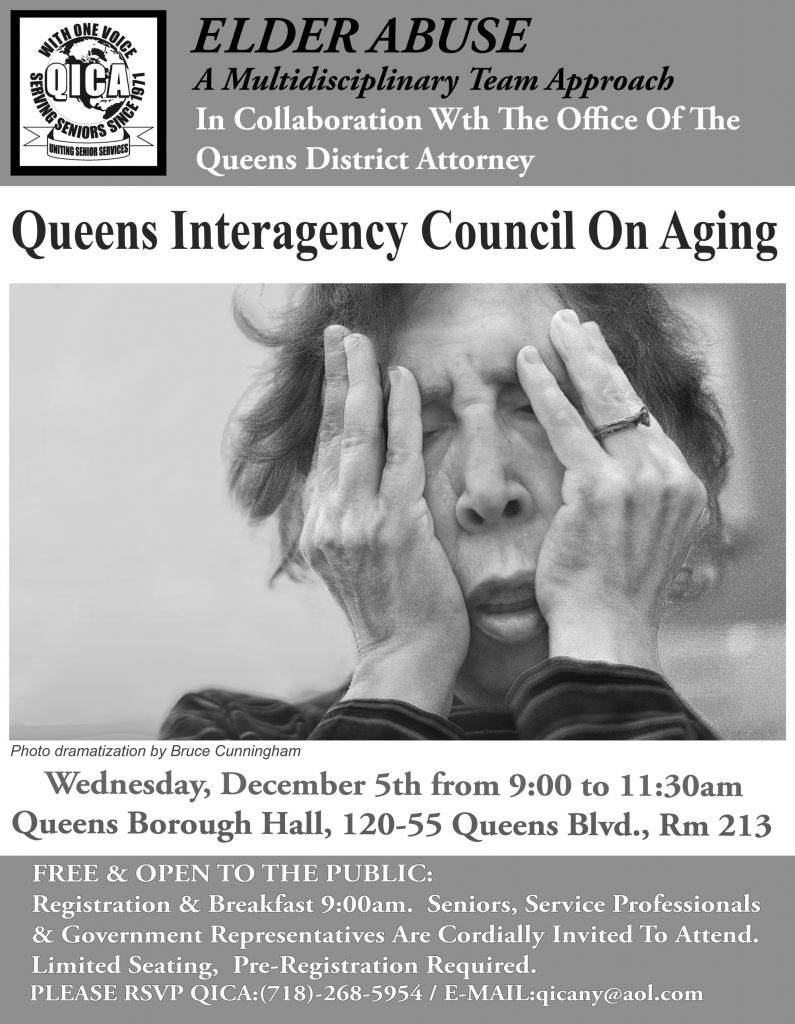 Queens Interagency Council On Aging
120-55 Queens Boulevard, room 319, Kew Gardens, New York 11424
Phone (718) 268-5954 / Fax (718) 268-5952/ Email: qicany@aol.com
November 20, 2018
NEWS ALERT
FOR IMMEDIATE RELEASE
CONTACT: Bruce Cunningham
Elder Abuse, A Multidisciplinary Teams Approach
Discussion, Solutions And Access To Services
The Queens Interagency Council On Aging (QICA) in partnership with the Office of The Queens District Attorney will hold its monthly community program on Wednesday, December 5th from 9:00am to 11:00am at Queens Borough Hall, room 213, 120-55 Queens Boulevard, Kew Gardens, NY. Registration starts at 9:00am served with a Continental breakfast. The program begins promptly at 9:30am.
Financial exploitation, physical abuse, psychological abuse, abandonment and neglect are aspects of elder abuse, increasingly common nationwide, with over 120,000 older adults victimized each year in NYC alone that go unreported. Evidence exists that a collaborative effort improves the effectiveness of agency responses and efficiency in the use of scarce resources.
Consequently, the NYC Elder Abuse Center (NYCEAC) has focused on developing and implementing successful multidisciplinary teams (MDTs) throughout NYC. NYCEAC is now in the process of coordinating and facilitating a team in Queens. These teams represent a highly collaborative endeavor; they regularly bring together professionals from diverse fields (e.g., social work, law, criminal justice, health care, mental health and adult protective services). The teams review, discuss and coordinate cases of elder abuse and neglect for strategizing and intervention. Additionally, MDTs serve as an important informational resource for service professionals.
Come join us for a discussion moderated by Kristen Kane, Chief of the Elder Fraud Unit of the Queens District Attorney's Office and members of the multidisciplinary team. Learn their goals, structure and intake processes to access the teams' services.
Queens Councilman Paul Vallone, a member of the City Council's Committee on Aging and Chair of the Council's Sub Committee on Senior Centers will be a keynote speaker. Other speakers confirmed to date are Christine Burke, Senior Assistant DA, Elder Fraud Unit — Economic & Environmental Crimes and Khi-Lynn Johnson, LMSW, Manhattan Multi-Disciplinary Team Coordinator, NYC Elder Abuse Center.
Time will be devoted to audience interaction. The program is free and open to the public. Seating is limited; pre-registration is required. Contact QICA at (718) 268-5954/Fax (718) 268-5952.