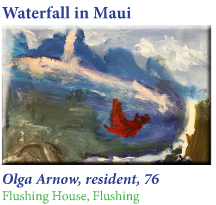 Recently LeadingAge New York held its annual Art Exhibit to showcase the work of residents, registrants, staff and volunteers affiliated with LeadingAge New York and the Adult Day Health Care Council (ADHCC). This exhibit has been running for over 25 years! Members of LeadingAge NY provide the highest quality care and experience for their residents, registrants and staff. This art exhibit exemplifies the quality of life that participation in programs like this can offer by providing chances for self-expression and artistic fulfillment. You can check out all of the artists and their work HERE.
Three residents from Flushing House submitted their artwork and had their pieces displayed in the exhibit. The pieces included "Waterfall in Maui," by Olga Arnow, 76, "Peaceful Waters," by Marie Cook, 93 and "Forest Streams," by Shuyan Huang 89. Flushing House is so proud of our residents and all that they accomplish. Their passion for art is displayed prominently throughout our community and it is part of what makes us so special.
Flushing House is an Independent Living community located in the heart of Flushing, Queens. It is where over 300 older adults call home. Built in 1974, Flushing House is one of the first nonprofit retirement communities to offer an "Independent Living" lifestyle with supportive services available right on the premises.