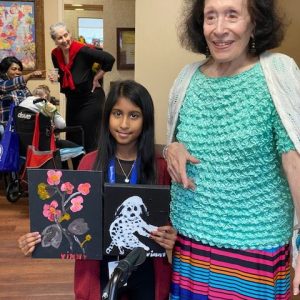 Resident Art Gallery
The Flushing House Painting Club recently held a Resident Art Show on the first floor of Flushing House. The show consisted of over 100 paintings done by residents. The walls were adorned with still lifes, portraits and abstract piece which made for a special Sunday afternoon for residents, families and visitors.
The Flushing House Painting Club is run by longtime resident, Olga Arnow. Olga is an expert in classical music and painting. She encourages residents to express themselves with their art during her classes. For many residents, this was the first time they've painted in a while, and for some the first time ever!
Entertainment
Guests and artists were treated to elegant music by Olivia Liu on the harp to set the perfect mood for artistic expression and interpretation. Sparkling apple cider was served as the paintings were admired and discussed.
Over 10 paintings were sold to benefit the Flushing House Painting Club. We hope this event inspires residents to become new members and share in our love of painting! For more photos of the event, follow us on Facebook.
The Art Gallery is just one of many activities at Flushing House where residents are able to learn new skills or even teach others. We encourage all of our residents to participate to their comfort level and find that challenging oneself with a new hobby and socializing with others is beneficial to all of us.