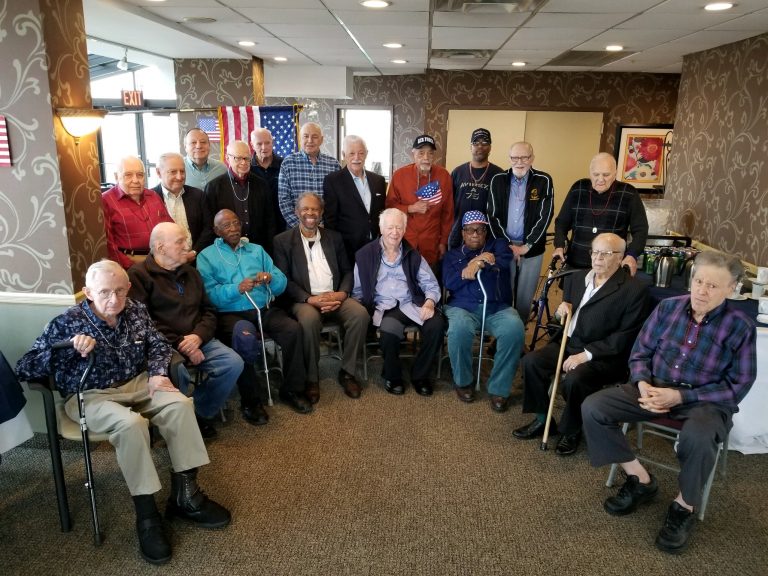 Veterans Day 2018
On Monday, November 12, 2018 Flushing House honored their resident veterans with a rooftop brunch overlooking New York City. This holiday is especially important at Flushing House because of our aging population. Photos, artifacts and stories were shared of time spent in the military and the important lessons learned while serving their country. Flushing House residents continue to be an inspiration to us all.
The residents were treated to a special luncheon in the Flushing House solarium which offered breathtaking views of the leaves around Queens and the Manhattan skyline in the distance. The menu was created by Executive Chef, Dennis Grobe, and served by the Flushing House Culinary Team. The veterans shared stories, photos and medals with one another while their meal was being prepared.
Rev. Douglas Kurtz, Flushing House President, officiated the ceremony of honors. Kurtz called out the names of each resident and asked them to stand and remain standing for a round of applause. "We honor those of you here today, as we honor the millions of Americans who have donned the uniform of military service and have valiantly fought to build, improve and defend our nation's freedom," Kurtz said. "May God bless our heroic servicemen and women, and the families that support them on this Veterans' Day 2018. Thank you for your service," he concluded. Residents of Flushing House are encouraged to share their stories not only with one another but in writing and journal classes.
Independent Living at Flushing House
Built in 1974, Flushing House is the largest, not-for-profit, Independent Living retirement community in New York state. Flushing House offers private apartments with supportive services on-site allowing their residents to 'age in place.' Each morning, the Activities Leader begins the day with exercise followed by a full schedule of activities and trips. Amenities include a movie theater, beauty salon, fitness center and sports lounge. Flushing House is available for visits 7 days a week by appointment. For more information, visit www.flushinghouse.com.