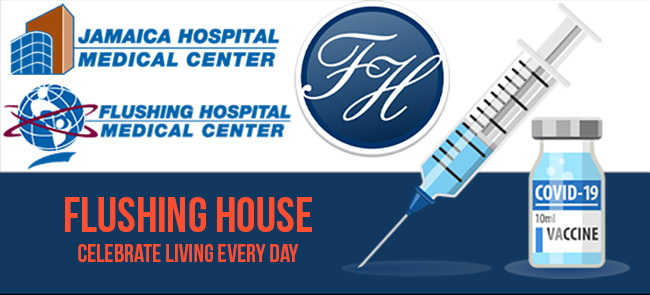 Working alongside Jamaica Hospital Medical Center and Flushing Hospital Medical Center, Flushing House has been given the option to receive the Pfizer COVID-19 vaccine distributed at the hospital. Flushing House is working diligently to provide safe transportation for our staff and residents to receive their vaccine. Please note that the vaccination takes place off site. Residents may experience long periods of standing once we arrive at the hospital. We also recommend that you speak with your physician and/or Power of Attorney if necessary.
Each vaccine recipient will then return to Jamaica Hospital Medical Center or Flushing Hospital in 21 days to receive their 2nd dose of the vaccine. Any resident who wishes to participate, please contact Resident Services at (347) 532-3005. This process is subject to change and residents and staff will be notified of any changes or new opportunities to become vaccinated.
For those who are over 75 years of age and/or belong to other vaccination categories (such as health care workers, teachers, first responders), here is the link from the City of New York to determine whether you may be eligible for an appointment to be vaccinated against COVID 19.
https://vaccinefinder.nyc.gov/