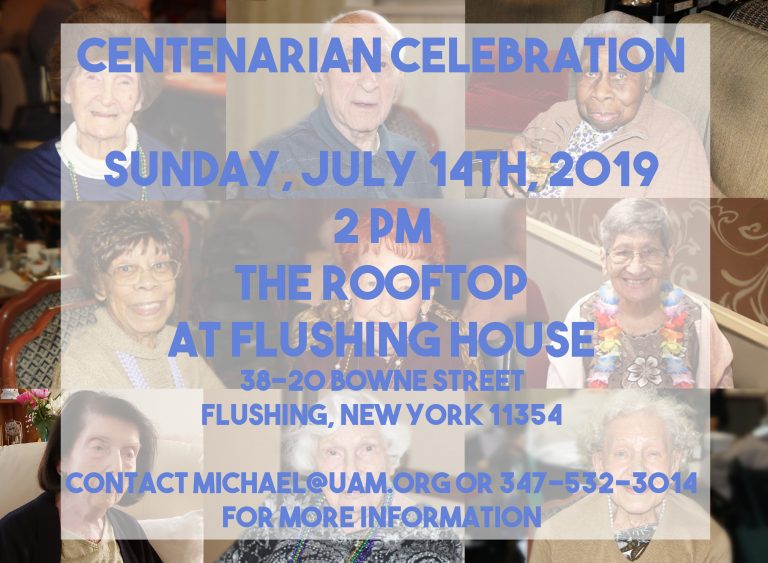 Centenarian Celebration
Flushing House, a 55+ community, is home to eleven Centenarians who will be recognized on Sunday, July 14th at 2 PM. The rooftop celebration has been organized by the Flushing House Resident Council Executive Committee. It will honor their longest living residents. This is not a birthday celebration but rather a celebration of life with friends, neighbors and family.
The Centenarian Celebration will give the 300 residents of Flushing House a chance to share their secrets to a long, happy life. Refreshments and cake are served by the Flushing House Culinary Team. Approximately, only 1 in 4,500 people in the United States live to be 100. The chance to celebrate the lives of 11 people that have reached this milestone is truly a rare occasion and inspiring to be in their presence.
The stories and memories these residents have serve as an important history lesson of lives well lived and decades of progress and hard work to get to this point. The lives of older adults are ones to be cherished and celebrated and Flushing House provides the perfect community for that.
Flushing House is an innovative retirement residence built in 1974. It was one of the first to offer older adults Independent Living with supportive services right on the premises. As New York State's largest not-for-profit, Independent Living retirement residence, their proud mission is:
"To provide a safe, enjoyable and affordable retirement experience for our residents."
For more information e-mail Michael@uam.org or call the Flushing House Marketing Department at (347) 532-3014 to schedule your visit today!