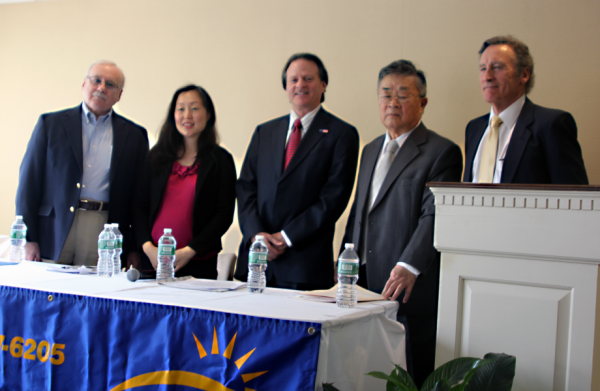 Flushing House hosted a press conference sponsored by Queens civic and business groups, regarding the future of the borough's economy. The conference took place on Thursday, March 24, 2016, from 11:00 a.m. to 1:00 p.m., and was held at Flushing House, 38-20 Bowne Street, Flushing, NY 11354.
Sponsors included the Queens Civic Congress, MinKwon, Korean Times, New York Women's Chamber of Commerce, Korean American Small Business Service Center, plus several arts and business groups as co-sponsors. The purpose was to raise awareness of the serious plight of Queens small business owners and their employees. Queens elected officials were invited to attend and report on what actions they can take to stop the rapidly escalating closing of long-established businesses, caused by sky-high rent increases.
The goal of conference sponsors was to focus public attention on various proposals to mitigate impacts of escalating rents on Queens businesses and communities. Speakers included: Steven Barrison, Esq., executive vice president of the Small Business Congress of NYC; Grace Shim, executive director of the MinKwon Center for Community Action, representing immigrant concerns; Sung Soo Kim, Korean American Small Business Congress, and; Quenia Abreu, representing women business owners and their female employees.
Built in 1974, Flushing House is the largest, not-for-profit, Independent Living retirement residence in New York State.
For more information, contact: Robert Salant (347) 532-3025, rsalant@uam.org.