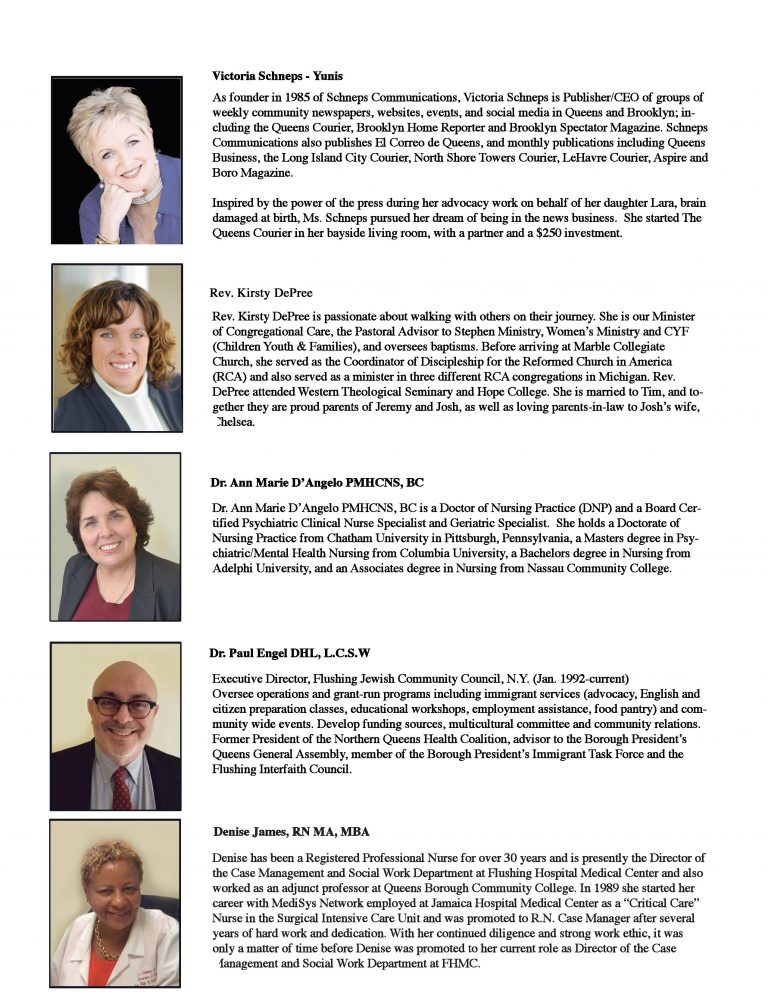 Rose Kryzak Senior Leadership Award & Older Adult Ministry Winner Chosen
Flushing, New York, February 23, 2017- United Adult Ministries, the parent company of Flushing House, will honor four outstanding persons with the Rose Kryzak Senior Leadership Award and the Older Adult Ministry Award, during an annual fundraising gala on Thursday, May 11, 2017 at Leonard's Palazzo in Great Neck, NY.
The awards are named after the late Rose Kryzak, a prodigious public advocate who fought for the rights of older adults. A resident of the UAM-sponsored Flushing House for her last 13 years, she passed on June 24, 1999 at 99 years of age. To keep her legacy alive and further the many causes she cared for, UAM established the Rose Kryzak Awards in 2000. This year's honorees are Victoria Schneps-Yunis of Schneps Communications, Dr. Ann Marie D'Angelo PMHCNS, BC, Doctor of Nursing Practice (DNP) and a Board Certified Psychiatric Clinical Nurse Specialist and Geriatric Specialist, Dr. Paul Engel DHL, LCSW, Executive Director of Flushing Jewish Community Council, NY and Denise James RN, MA, MBA, Director of Case Management and Social Work at Flushing Hospital Medical Center.
Rose Kryzak was best known for spearheading passage of New York State's landmark 1987 Elderly Pharmaceutical Insurance Coverage (EPIC) legislation. But earlier in her life she fought for passage of Social Security, for the poor and elderly, during Federal budget cuts of the 1980's, for increases in New York's share of Supplemental Security Income, and for mandatory Medicare assignments and passage of universal health care.
Since 2000, Rose Kryzak's family has attended each Gala to help honor the award winners for their continuing efforts on behalf of older adults. The award winners must have a record of establishing legislation, or operating/expanding programs that benefit the older adult population, or a good track record of advocacy and securing funds for senior programs.
This year's program will also include the prestigious 'Older Adult Ministry Award' which recognizes an individual from the Presbytery of New York City, Presbytery of Long Island or the Reformed Church of America whose service and commitment to older adults exemplifies the love of Jesus Christ. This year's honoree is Rev. Kristy DePree of Marble Collegiate Church.
Join other supporters of older adults on Thursday May 11th and help honor our award recipients at Leonard's Palazzo. Attendance is by reservation only. Reservations and sponsorship opportunities are available online by visiting http://bit.ly.com/fhgala17 and over the phone by contacting the Marketing Department at (347) 532-3014.
Built in 1974, Flushing House is a not-for-profit retirement residence, and was one of the first to offer older adults independent living with supportive services on-premises. All proceeds support a special endowment fund, which allows Flushing House to remain affordable for many of the seniors who live there. Please go to www.flushinghouse.com for more information.
United Adult Ministries (UAM) is an older adult ministry of The Presbytery of New York City, The Presbytery of Long Island, and The Regional Synod of New York, The Reformed Church In America. UAM sponsors Flushing House, along with United Home Services and United Lifeline, all not-for-profit organizations. The UAM mission: United Adult Ministries offers older adults hope, through expanding opportunities and practical services, to live confidently in today's world.