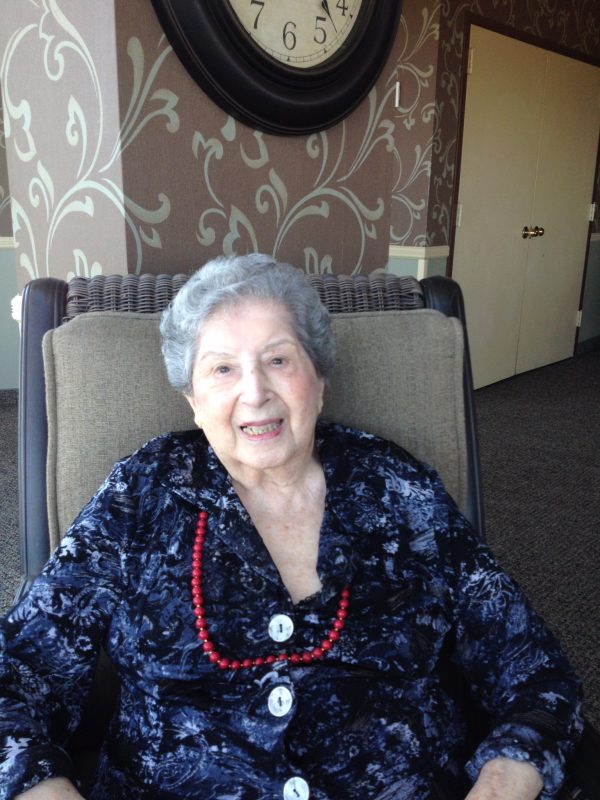 Flushing, New York, July 27, 2016 — Roselyn Siegfried, the longest living resident of Flushing House, will celebrate her 106th birthday in August!  The joyous occasion will bring family members together for her birthday bash on Sunday, August 28th, up on the spectacular Roof Top Lounge of Flushing House.
Roselyn was born in Steubenville, Ohio on August 29th, 1910.  Her family moved to Pittsburgh Pennsylvania, where Roselyn grew up.  At the age of 19, Roselyn and a female friend left Pittsburgh and moved to Brooklyn, New York.  And, despite being the height of the Depression, Roselyn was always able to find work there as a legal secretary.
Moving from the Hotel St. George in Brooklyn, Roselyn settled on the upper West Side where she met her future husband, Harold Siegfried, known to one and all as "Artie."  After Roselyn and Artie were married in 1938, they were blessed with the birth of their daughter Renee.  In 1940, they moved to Utopia Parkway in Fresh Meadows, and lived there until Artie retired in 1980.
Then it was off to Florida and Sunrise Lakes, where the couple spent days canoeing in the Everglades and socializing with friends.  They remained in Florida until Artie showed symptoms of Parkinson's Disease, so they decided to relocate back to New York, where they moved to Flushing House on June 6, 1991 and lived there for several months, before her beloved Artie passed away.
Having made many new friends at Flushing House, Roselyn decided to stay.  She has enjoyed her many years at Flushing House, participating in its many activities.  During a few recent visits to nearby Flushing Hospital, the nurses and doctors made special trips to her room to find out her secrets, to both her long life and her good looks!  She was quick to tell them she has "20/20 vision, perfect hearing, and all her own teeth."  She attributes this to daily exercise and vitamins.
At Flushing House, Roselyn enjoys spending quality time with her daughter Renee and her two grandchildren, Suzanne and David, and especially her two great-grandchildren, Noah (13) and Eve (10).
Built in 1974, Flushing House is the largest nonprofit retirement community in New York State, one of the first to offer older adults "Independent Living" along with supportive services on premises.  The address is: 38-20 Bowne Street, Flushing, New York 11354.  Go to www.flushinghouse.com for more information.
Contact: Robert Salant, 347-532-3025, rsalant@uam.org