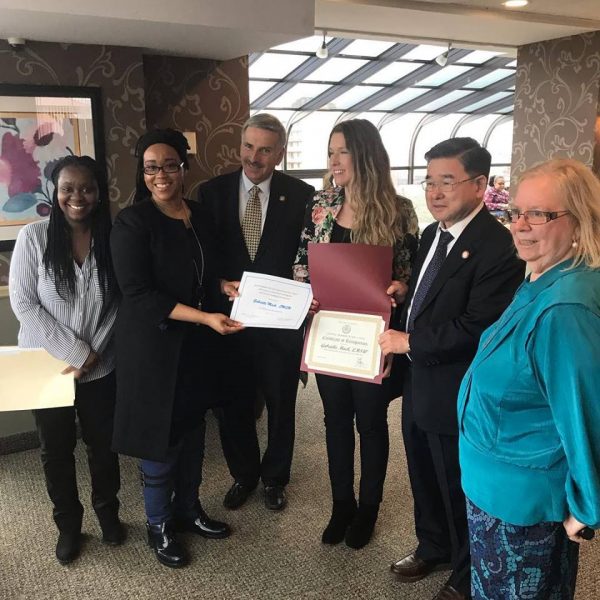 The 28th Annual Reception
The 28th Annual Reception Honoring Queens Social Workers was held Friday, March 1, 2019, from 2-4 PM at Flushing House. The event was sponsored by the Queensboro Council for Social Welfare, the New York City Chapter of NASW, and Queens Borough President Melinda Katz.
Over 60 guests enjoyed refreshments in the rooftop solarium while the following awards were given out:
An Outstanding Social Worker Award will be awarded in memory of Nita H. Henick and presented to a social worker who has provided leadership in advocacy and public policy issues. A powerful activist and advocate, Ms. Henick was a past President of the NYC Chapter of NASW and Board Secretary of QCSW.
The Twelfth Annual Fred Kuo, Jr. Award will be presented to a social worker who has fostered respect and understanding between peoples. Named for Fred Kuo, Jr., son of the late Dr. Nicetas Kuo, a past QCSW president, this award was established in his memory, following his death at the World Trade Center on 9/11.
The Eighteenth Annual Evelyn Pliego Memorial Social Work Student Award for an outstanding social work student who lives and/or works in Queens, with preference to those working with seniors. Evelyn Pliego, CSW, past QCSW President and QICA Vice President, was a highly respected social worker who set high standards in social work and geriatric services.
In addition to the three Awards to Outstanding Social Workers, approximately fifteen Certificates were presented to social workers from Queens agencies. All awards and certificates are for professional social workers serving Queens residents through their jobs and/or volunteer activities.